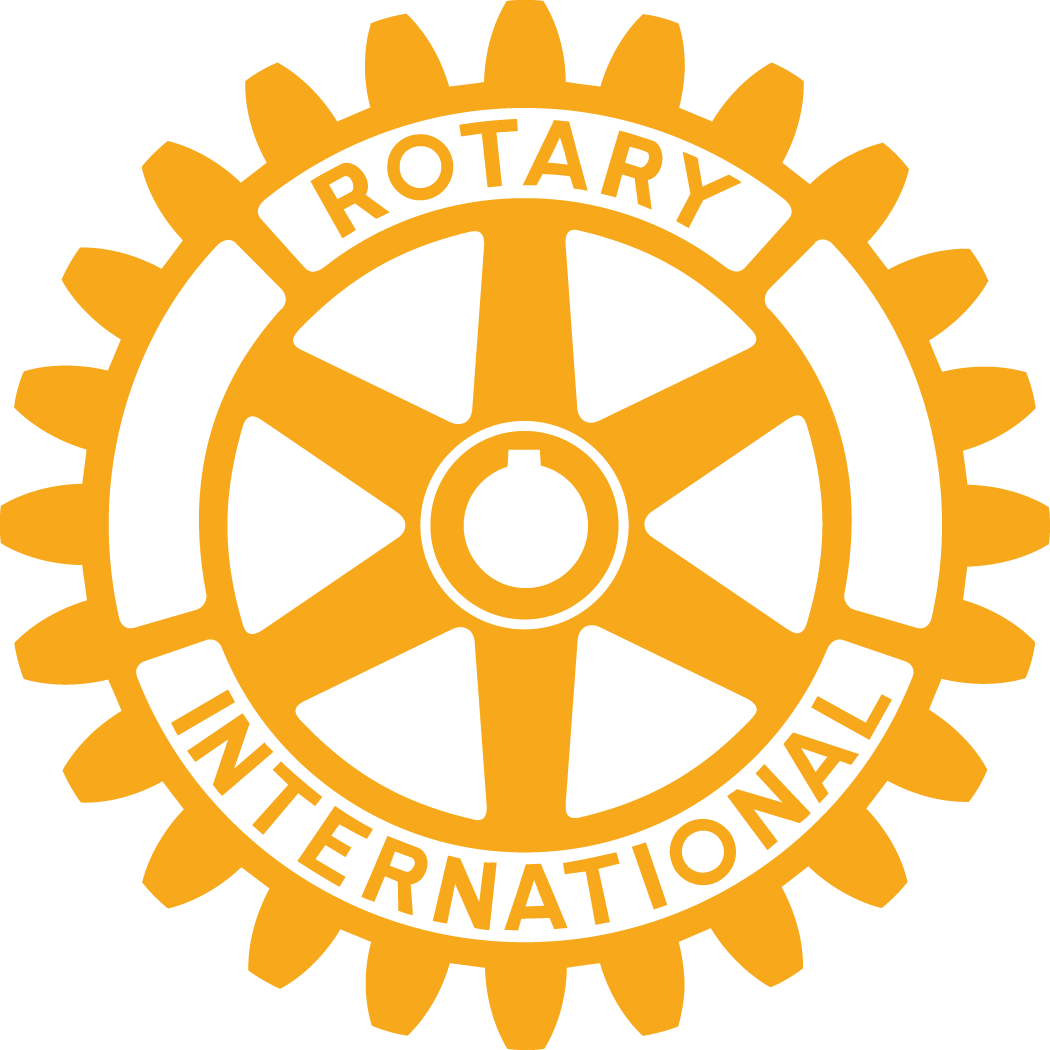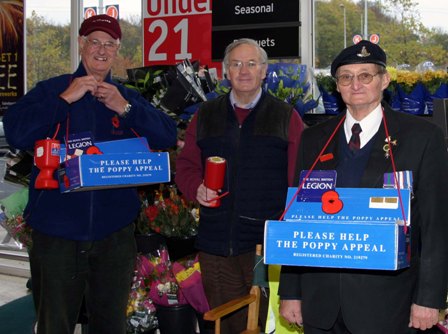 Colourful quilts assure winter warmth for hospice patients
Patients at Garden House Hospice in Letchworth Garden City can look forward to a cosier winter following the presentation of eight colourful patchwork quilts by Letchworth Howard Rotary Club member Mary Rawlins.
The quilts – two with special Christmassy designs – are designed to keep legs or shoulders warm and comfortable when patients are, for example, sitting up enjoying a meal or relaxing with a book or magazine.
Mary, pictured (right) with Helen Clark, Garden House's head of operations, with one of her beautiful creations, is a highly accomplished quilt maker.
Used on patients' beds, the quilts will also bring a splash of added colour into the Hospice and help make rooms look nice and homely after some curtaining and carpeting had to be replaced by hard floors and blinds to meet health requirements.
Hospice hits bullseye at Rotary darts marathon
Letchworth Garden City's Garden House Hospice hit the bullseye at Letchworth Howard Rotary Club's recent darts marathon when an estimated £2,000-plus was raised for charitable causes, with the hospice the main beneficiary.
The event, at the town's Broadway Hotel on November 16, attracted 11 darts-playing teams, with a total of 52 participants.
The full financial results will not be known until January when all the sponsorship monies come through, but the total is thought to have been at least £2,000, with 60 per cent going to Garden House and the remainder being kept for the club's own charity fund for other Rotary charities. On top of the sponsorship monies, a raffle raised an additional £199 for the hospice, which also benefitted from a further individual donation of £50.
Hospice donation follows long tradition at Letchworth Howard
Letchworth Howard Rotary Club's new president David Glanville followed what has become a tradition when he visited Letchworth Garden City's Garden House Hospice on Monday July 31 bearing a very welcome gift – a cheque for £446.

He was following hard on the heel of his predecessor, Colin Green, who in June presented Garden House with a £750 donation from the club's annual bridge drive.

The latest gift stemmed from the club's very successful partners' quiz in May, the proceeds from which were split equally between Garden House Hospice, the charity Magic Breakfast which provides healthy school breakfasts to hungry and malnourished children in disadvantaged areas of the UK, and the club's own charitable fund.

Our picture shows David at Garden House with Jayne Dingemans, Director of Patient Care.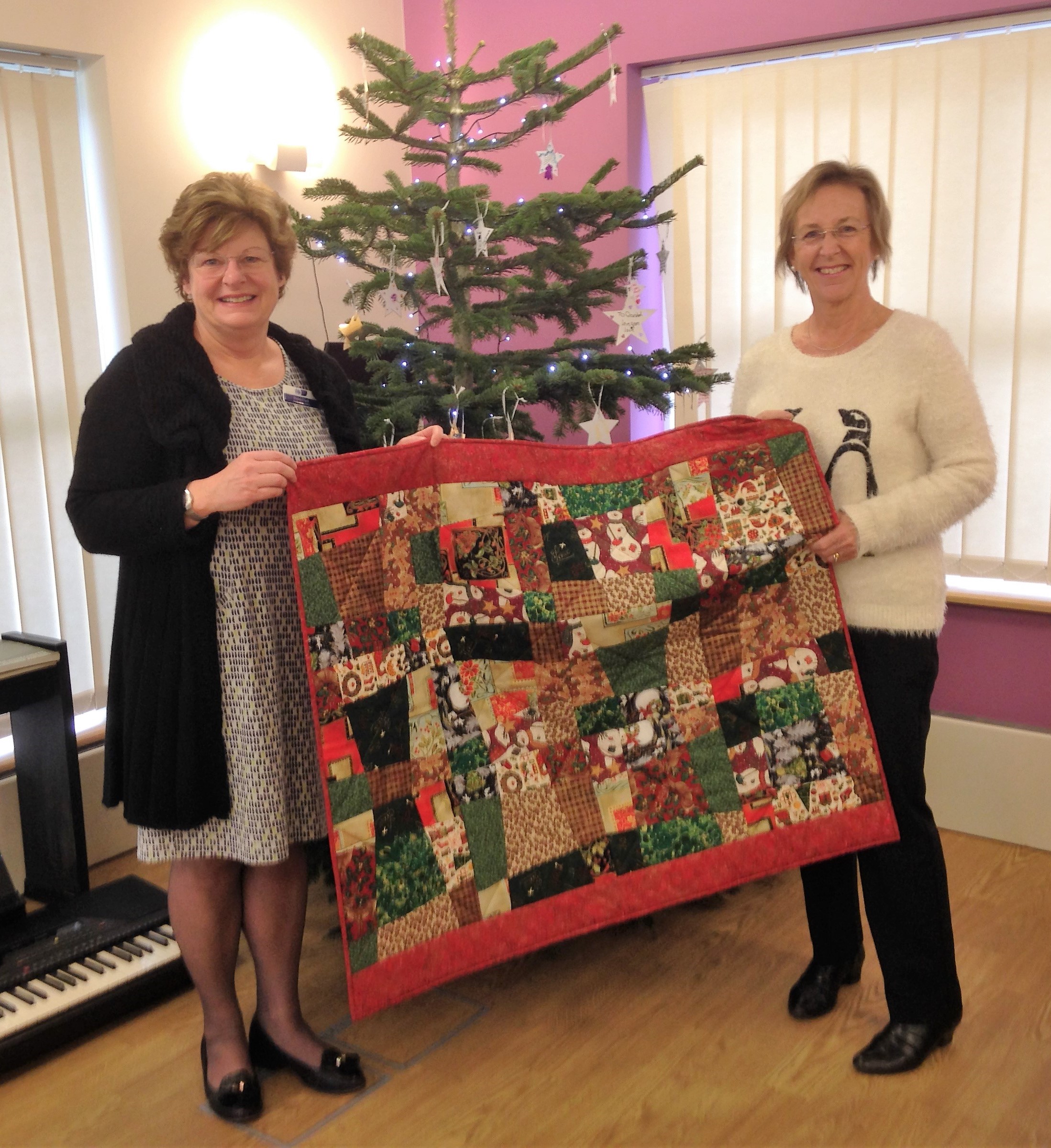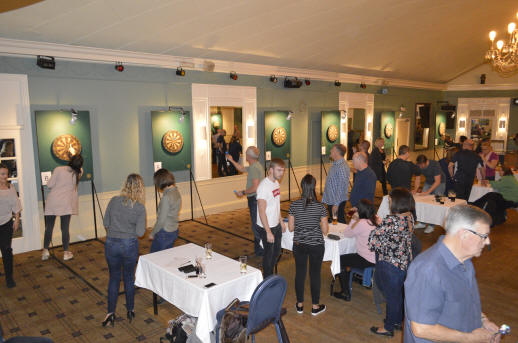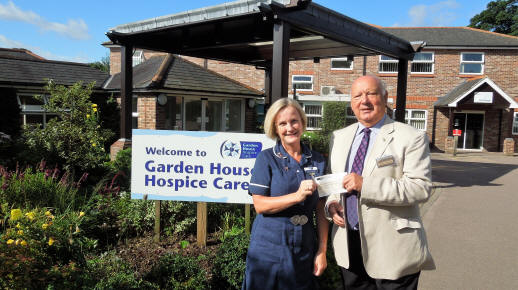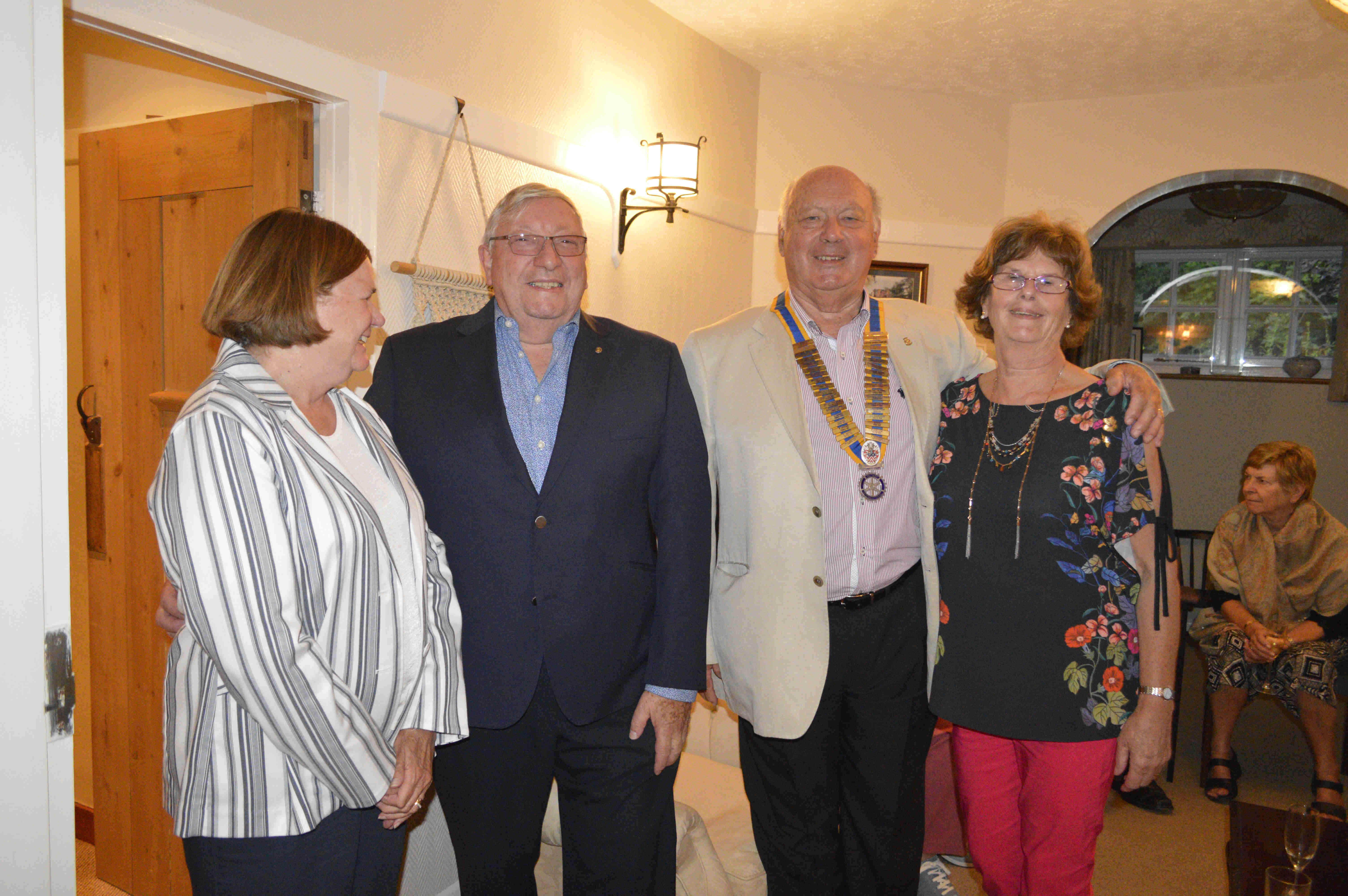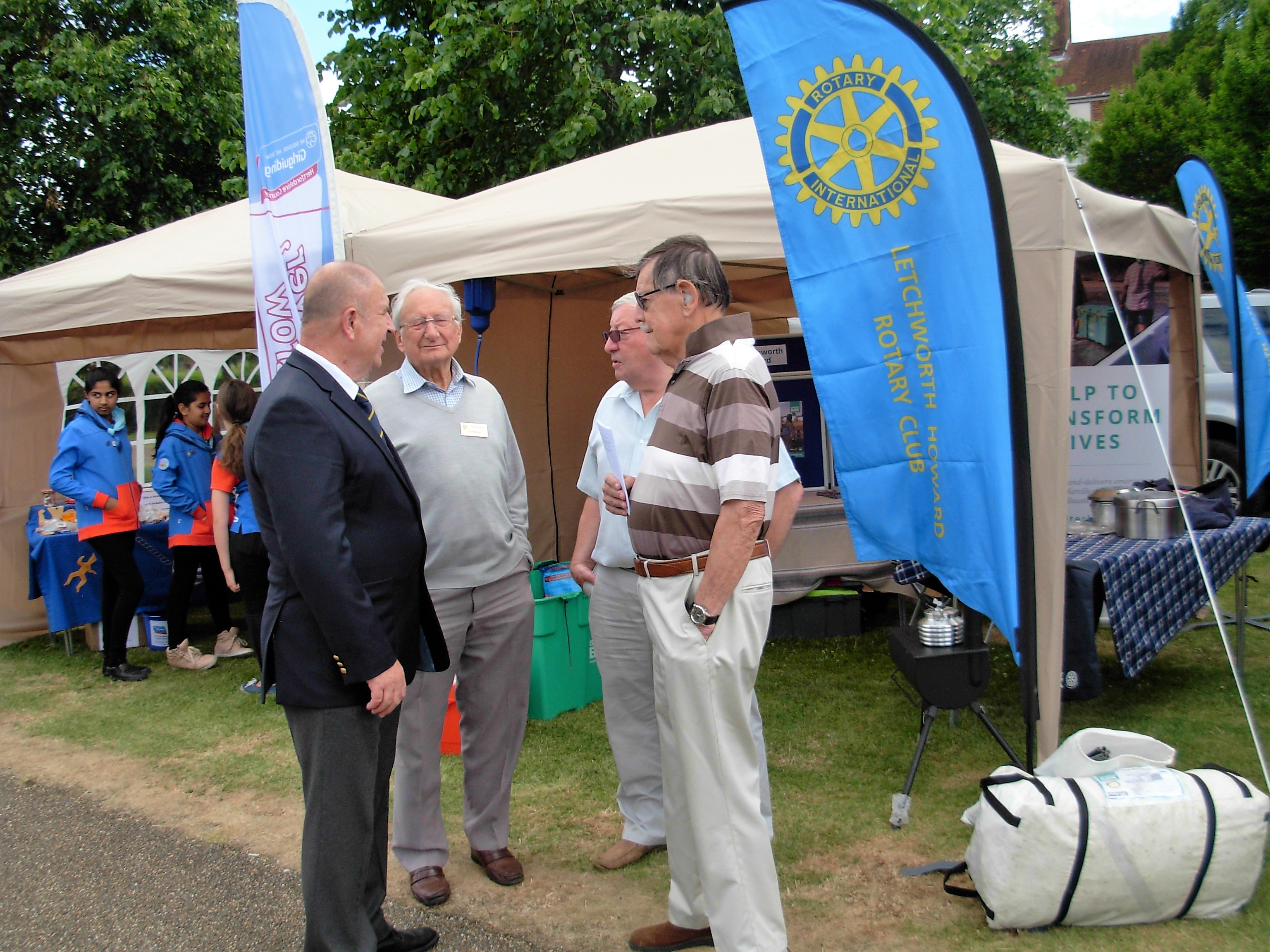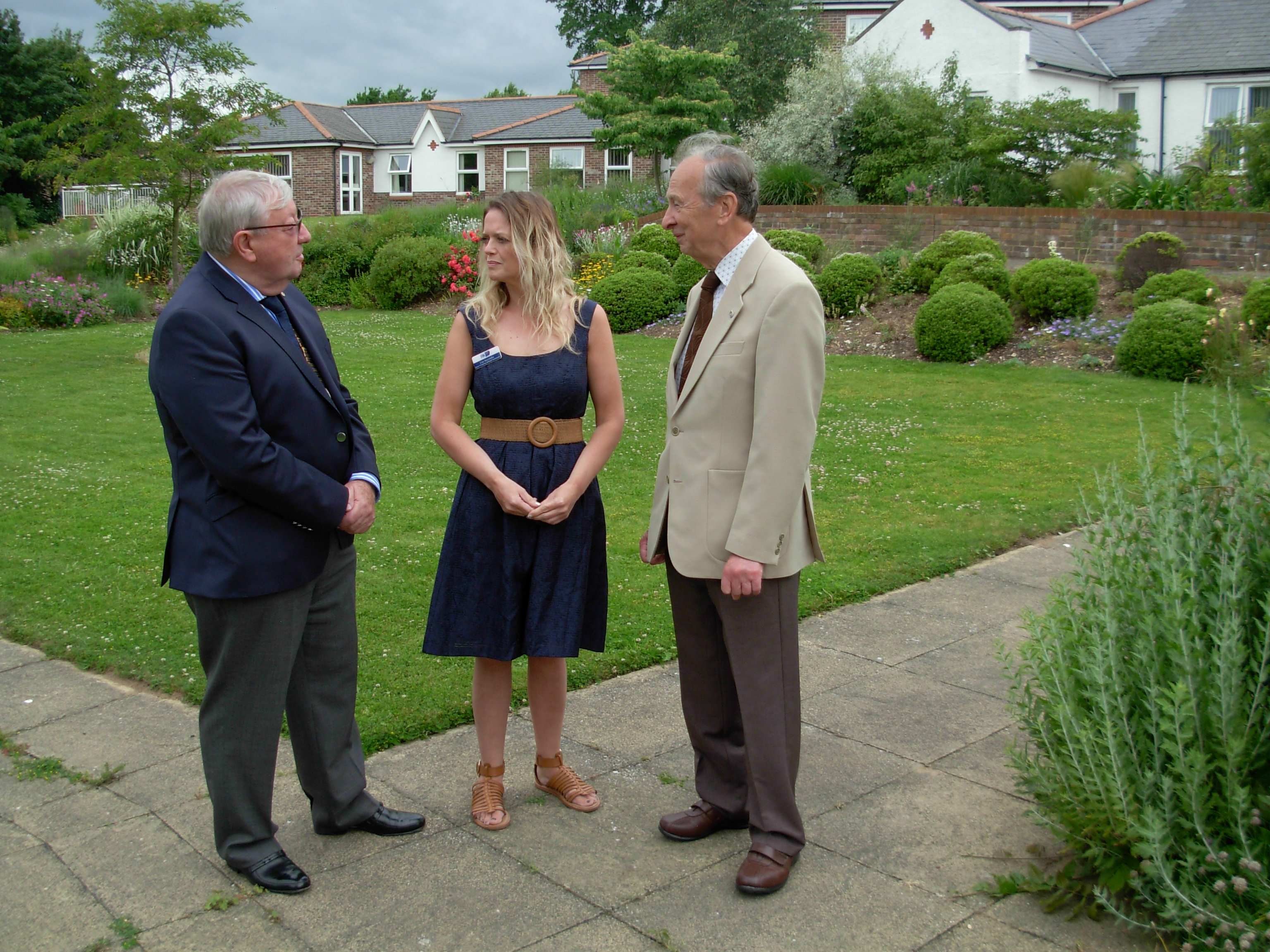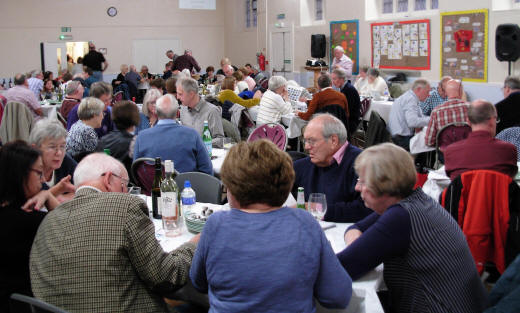 So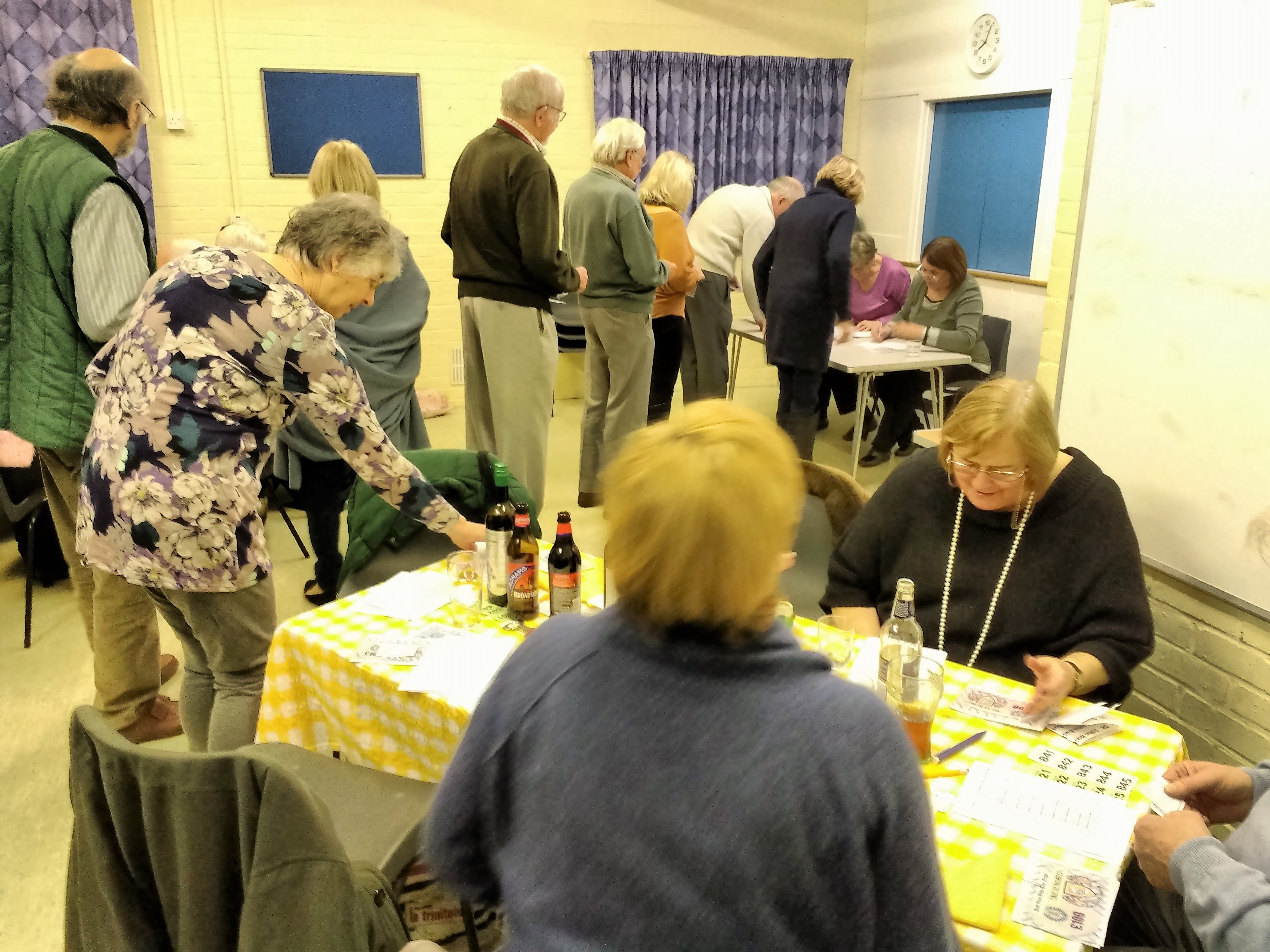 me study their racecards; others queue to place their bets. Some of the participants who enjoyed a splendid evening with the Letchworth Howard race night.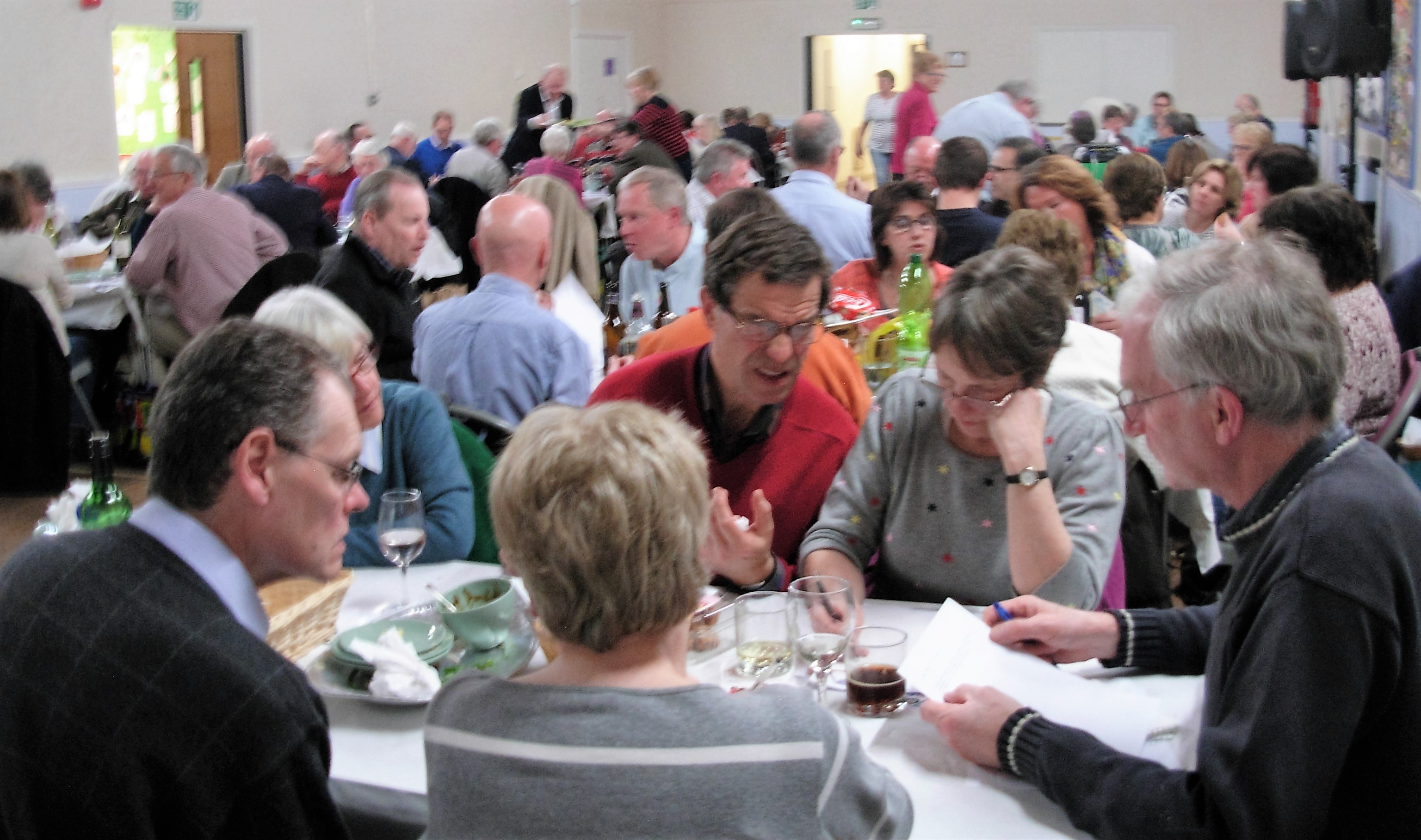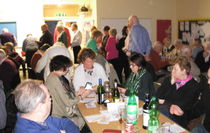 Garden party marks handover to new Letchworth Howard President
The sun shone and everything was bright and beautiful when Letchworth Howard Rotary Club marked the inauguration of its new president with a garden party at the home of club members Angela and Tony Silver on Monday July 3.David Glanville has taken on the mantle from Colin Green, who emphasised how much he had enjoyed the role. "I know David is going to enjoy it too," he said. "It is a great club, because we all get on so well."Responding, David Glanville said: "I hope we'll have another good year, that we all enjoy it and we'll all do a little bit of good."The photographs show members and partners enjoying Angela and Tony's sunny garden ahead of the formal handover, and, after the handover, (from left) a happy Karen and Colin Green and new president David Glanville and his wife Kathy.
Letchworth Howard to the fore at Armed Forces Day display
Letchworth Howard Rotary Club had a prime spot at the annual Armed Forces Day commemoration at Letchworth Garden City on Saturday June 24th with a display featuring some of the survival kits Rotary helps provide for disasters around the globe.
Visitors to the club's gazebo could see a ShelterBox and its contents, an AquaBox, and an emergency tent kit, as well as a range of literature explaining how invaluable this sort of equipment is when disaster strikes and the role of Rotary in making it available.
The picture shows club president Colin Green (second from right), club secretary John Bush, (second from left), and Rotarian Mike Coleman (far right) chatting to a visitor to the club stand.
Hospice Garden visit for Rotary fund-raiser
Everything in the garden was lovely at Garden House Hospice, Letchworth Garden City, on Monday (June 12) when Colin Green, president of Letchworth Howard Rotary Club, came to hand over a cheque for £750 raised at the club's annual bridge tournament.

He took advantage of the fine weather to enjoy the Hospice's gardens, a haven for patients, visitors and staff maintained in immaculate order by an army of volunteers.

Colin was shown round by Lisa Seccombe, the Hospice's director of fund-raising, marketing and communications, who is pictured chatting to Colin (left) and club member Alan Fraser (right), who is himself a long-standing Hospice volunteer.

Letchworth Howard Rotary Club has a close connection with Garden House Hospice. Club members are active in the Hospice's retail operations, finance, and patient transport. The Club's secretary, John Bush, recently retired as a Hospice trustee.
25th Annual Partners quiz night breaks all records
The Club marked 25 years of its annual partners quiz with a bumper quiz night on Saturday 20th May that raised a record-breaking £1,338 for charity. The two principal beneficiaries are Magic Breakfast, which provides healthy school breakfasts to hungry and malnourished children in disadvantaged areas of the UK, and Garden House Hospice, which serves a wide area from its Letchworth Garden City base. The club's own charitable fund is also receiving a top-up from the event, helping to enable rapid responses to emergency events and aiding the club's own community activities through the year.The quiz was organised by Karen Green, wife of club president Colin Green, with a band of helpers who also prepared excellent food for the midway supper break. The evening, at St George's Church Hall, Letchworth Garden City, also included a raffle that by itself raised £275.

Missed it ? Wished you had come ? Watch out for the event next year on our Web diary.
Race Night supports outing for under-privileged children
Under-privileged children in Letchworth Garden City were the guaranteed winners at the Club's race night on Friday 27th January 2017.

The event raised just over £410, including £155 from a very well-supported raffle. The

biggest beneficiary are the children the club takes every year to the pantomime at the Gordon Craig Theatre, Stevenage, in association with the local branch of HomeStart, the charity that helps families with small children who need extra support.The target had been £400, so the evening did even better than had been hoped. The surplus from the pantomime outing is being retained in the club funds to help future charitable activities.The event included a splendid home-cooked meal provided by volunteers, and was helped by the generosity of the local Guides, who provided their hall free of charge.
There was no question about the winners from Letchworth Howard Rotary Club's quiz night on Saturday 19 March 2016: Epilepsy Action, Help for Heroes, and the local branch of Home-Start, which helps parents with young families, will share £1,200 raised through the event.
Some 90 people took part in the evening, organised by Karen Green, wife of Letchworth Howard president Colin Green, and her team of other Rotary "partners".
The quiz – the club's 24th annual partners quiz – was presided over by veteran quizmaster Peter Spreckley, who is stepping down after many years as question-setter and amiable interrogator-in-chief at quiz nights across the area for a range of organisations.
A raffle raised £240 for the three charities, and the evening also included an excellent supper.
Letchworth Howard raises over £1,000 for flood relief in the UK

.
Punters queue to place their bets while others study their race cards at Letchworth Howard Rotary Club's race night on 5th February 2015.
The event, organised at short notice in response to the floods disaster that has hit so many homes and businesses in the north of England, Scotland and Wales, netted over £800. It followed an impromptu fund-raising at the club's January 4 meeting and means Letchworth Howard has now raised well over £1,000 to aid flood victims, a sum that will be matched by government agencies.
Over 60 members and guests participated in the race night, and there were also donations from people unable to come.
A willing band of helpers led by honorary Letchworth Howard member Dorothy Harrison provided a delicious supper, while club president Colin Green kept the proceedings in order and introduced each of the races.
One Letchworth Howard member was fortunate enough to win three times in a raffle midway through the evening – but sportingly returned his second two winning tickets. It was undoubtedly coincidence that his wife was the raffle organiser!
The evening's success was much helped by Letchworth Guides, who provided their headquarters for the evening, and a Thank You donation was also sent their way.